Great portraits don't just happen. They are the result of efforts on both sides of the camera. Your portraits will reflect the thought and effort you put into them. The more that we plan in advance, the more successful your finished portrait will be. Here's a few things that you are in control of: hairstyles, facial hair, nail polish, makeup, jewelry, sunburn, and especially wardrobe selection.
Clothing
With clothing, simplicity is the key. Solid clothing--items without patterns, stripes or logos--work best. Patterns and prints can be very distracting in your images. Try to stay away from "loud" clothing or anything that is trendy.
For your pregnancy session, the Linda's Lenses offers a wide variety of wraps -- be sure to inquire. For the "Little Forever" and "18 to 5" packages, Linda's Lenses has an ever-increasing number of studio props, but you are encouraged to bring your own special outfits and toys as well.
Stripes make people look bigger and wider.
When choosing clothing colors, remember that dark to medium tones (brown, burgundy, green, blue, black) always photograph well. The lighter colors, on the other hand, call attention to themselves and away from the face. Not only do the light colors dominate a portrait, they also add bulk to subjects wearing them.
Dark colors are more flattering and slimming.
For family groups, it's important to coordinate colors in the same tonal range so that no single family member stands out because their clothing is too bright as compared to the rest of the group. Also, coordinating colors has the psychological effect of showing closeness in the family.
Another thing to consider when selecting colors is the location of the final print. If it will hang in the den over the sofa, you should try to incorporate the color scheme of the room into your clothing choices.
Choose outfits that fit your personality and make you feel attractive. Create color harmony and ensure that all outfits are coordinated. Avoid patterns or stripes; solid, neutral colors look best. Avoid wearing short skirts or shorts, as they make posing more difficult. Long, flowing dresses, jeans, and khakis make better selections.
Sleeveless shirts or tops with very short sleeves are sometimes very unflattering in portraits, and should be avoided. Also, unless you don't mind people seeing all of your curves, it's best to avoid tight fitting tops.
Because shoes often show in portraits, ensure that the shoes you wear compliment your clothing. However, bare feet also work in many cases. Consider dark socks instead of the eye-catching white ones.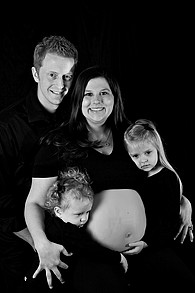 Portrait sessions are conveniently done in our studio, in your home, or at a location that is special to you. When possible natural light is used, because of its beauty and ability to provide a more relaxed environment.

During the warmer months many of my clients like to do a mixture of indoor and outdoor photos. I am happy to make arrangements for this as I love variety and change within a session.

I do not put any limit on poses or outfit changes. For maternity sessions I suggest having three or four options ready, if not more. In your home, sessions last approximately two hours though they may last a bit longer depending on what you would like to accomplish. It is very important to me that you do not feel rushed. The more relaxed you are, the easier it is to get good pictures.
More Tips
Avoid fake tans and especially sunburns before your portrait session. These can make your skin look "muddy", and is very difficult for the lab to correct, if it's possible at all.
Please don't experiment with a new hairstyle for your portraits. There's nothing we can do to create a portrait you'll love if you hate your hair. And guys, get the haircut a week or two before the session, not to mention shaving off the 5 o'clock shadow.
Start thinking about props! This can make your photograph unique. Consider a picnic basket, wine glasses, a musical instrument, or even pets. We can also work with larger objects such as boats, sports cars, planes, or motorcycles.
We recommend that you do not schedule other activities close to your photo session. Rushing in for your session or "clock-watching" while you are with us creates stress and fatigue that can be reflected in your portraits.
Don't worry about the location! Once you choose your wardrobe and props, schedule your appointment and we will discuss a location and times with you. We have access to many secret hideaways. Just tell us what you envision, and we will create the rest!
Become alert to interesting photographs. Look out for awesome postcards or magazine advertisements. Often we re-create art with you as the subject!
Keep in mind that many families choose to display their portraits. Consider a designer frame, guest book (great for birthdays, showers, or celebrations), and holiday greeting cards. Also keep in mind that framed portraits make great gifts!
Have fun! Let us capture you being you!