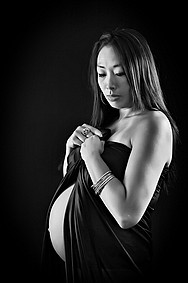 Ever since actress Demi Moore appeared pregnant and nude on the cover of Vanity Fair in August, 1991, being photographed while pregnant has become something women recognize as highly desirable. And every woman has the right to have beautiful images of herself that portray her naturally in a respectful and tactful way. That is the goal at Linda's Lenses Photography: to give women the opportunity to remember themselves as they really were, beautiful and natural while producing a new life!
A portrait of a woman during her first trimester will not be as evocative as that of a woman during her third trimester. We recommend the 34th week as ideal for your pregnancy session. Try to avoid the final month, particularly if you've already delivered a baby.

Prior to the shoot, be careful not to wear any elastic over any area of your body that will be photographed (e.g., waist-bands, bra straps, socks).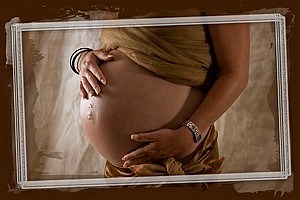 If you would like hand shots, make sure that your nails and jewelry are to your satisfaction. (and don't forget about your spouse's hands). If you have specific ideas that might involve props please let me know ahead of time so we can both be prepared at the time of the shoot. Linda has available wraps of different kinds – if you have something specific in mind we can discuss in our pre-session interview.

If you would like your spouse, children, or pets in the photos, make sure that they are also prepared with regards to open schedules, meals, clothing preparation, grooming, etc.