Sessions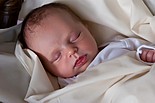 Linda offers two programs specially for capturing the wondrous moments of your child's very early years, "Little Forever" and "18 to 5".
With "Little Forever" you get together with Linda four times during the first year of your child's life for special photography sessions. When each session is complete you will be able to view the images from that session online privately, and select 3 units of your choice to be printed and delivered to you. Once all your sessions are complete, you will also receive a beautiful 10x20 collage featuring an image from each of the sessions.
The "18 to 5" program is structured very much like the "Little Forever" program, with the intent of capturing moments in your child's life up through age 5. There are five photographic sessions in all: at 18 months, 2, 3, 4, and 5 years.
The investment for "Little Forever" is $605. The investment for "18 to 5" is only $495 (older children are a little easier to photograph). Sessions can be further customized, depending on your needs, so call the studio today to start planning!
Also note that website orders placed during the first two weeks after uploading receive an additional discount, over and above the studio credit, so it is greatly to your advantage to order promptly!
And of course, you do not have to choose the "Little Forever" program to have Linda photograph your children. Just call for a single-session appointment, and get ready for the fun! The normal session fee is $125 (Ohio sales tax included). Newborn sessions are $145; for special occasions, call Linda for a quote.
Reprints
Prices for one or more reprints of the same image are as follows:
Reprints of a Single Image
Reprint Size
Reprint Price
4x6
$6
Single 5x7
$18
Twin 5x7s
$25
Sheet of 8 Wallets
$25
Four 3.5x5s
$25
8x10
$25
5x5 w/Frame
$45
10x10
$35
11x14
$50
16x20
$75
20x24
$115
For reprint orders placed on our website, there is an additional 5% discount for 2 or more copies of a single image, a 10% discount for 5 or more copies, and a 15% discount for 10 copies or more.
Finally, the website also offers an overall discount of 5% for orders totalling $50 or more, 10% for orders totalling $100 or more, and 15% for orders totalling $200 or more.
Cards & Books
At Linda's Lenses, press-printed cards and coffee-table books are very popular. All cards and coffee-table books are hand-designed by Linda herself.
Press-printed cards can be used for a wide variety of purposes, such as birth announcements, party invitations, and holiday greeting cards. Each of the following boxes contain 24 cards with envelopes:

Press-Printed Cards
Style
Price
Additional
Cards
4x5 Folded
$41.95
$1.25 each
5x7 Folded
$47.95
$1.45 each
5x7 Flat
$37.95
$1.29 each
5x5 Flat
$37.95
$1.29 each
5x5 Tri-Fold
$51.95
$1.55 each
Press-printed coffee-table books are a wonderful way to keep images from your session. They are so easy to handle, and they are very economical, costing about the same (and sometimes less) than buying single copies of the individual images! (To browse through recent examples of these books, click here.) Each of the following Coffee-Table Books contains 24 pages:
Size
Price
Additional
Books
Coffee-Table Books
(Hard-Cover)
5x5
$145
$70
6x9
$175
$85
8x8
$235
$115
8x10
$255
$120
8x12
$275
$140
10x10
$285
$145
11x14
$300
$150
Coffee-Table Books
(Soft-Cover)
5.5x7
$50
$25
6x6
$40
$20
6x9
$50
$25
8x8
$60
$30
8x10
$65
$36